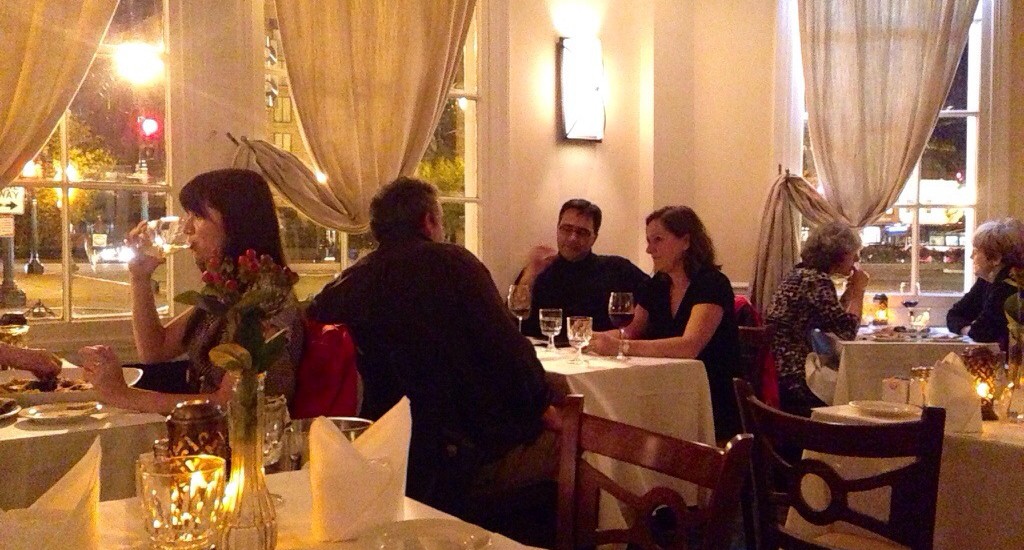 Das is an elegant Ethiopian restaurant located at the beginning of Georgetown on M Street. The all white interior makes for an intimate, romantic atmosphere. The decor was more understated than at other Ethiopian restaurants I've been to, which are usually decorated with an ethnic theme. The only hint at the restaurant's cuisine was in the beautiful black-and-white portraits of Ethiopians hanging on the walls.
During the warmer months, Das has outdoor seating on its front patio. It's definitely the perfect place to see Georgetown and be seen in Georgetown.
I'm not a connoisseur of Ethiopian cuisine, so whenever I go to an Ethiopian restaurant, I tend to let someone else order for me. The simple choice this time was the Das Combination Chicken & Beef Entrée Sampler for Two ($35.95), which I shared with my boyfriend. The meal came with Chicken Doro Watt, Beef Kaey Watt, Beef Alicha and Beef Cubes Segana Gomen on injera, a traditional spongy Ethiopian flatbread.
Ethiopian cuisine is unique because you eat it with your hands! The food is served on a bed of injera, and it comes with rolls of injera with which you're supposed to scoop your food up and eat it. The best part of the meal is eating the injera below the meat, because it's been soaking up.
I couldn't really differentiate which dish was which on the plate (with one exception), but it didn't really matter; it was good food. The Chicken Doro Watt was placed in the center, and consisted of drumsticks buried under ground meat and served with hard boiled eggs. All of the meats came in varying degrees of spiciness. The servers were really attentive when it came to refilling cups with water. This dish came with two non-meat sides (the yellow and green blobs on the left of the plate), but I would have liked some more vegetables to break up the monotony of the meal. The past two times I've been to Ethiopian restaurants, my dishes came with more non-meat sides.
The Sample meal was definitely a lot, even for two people. I think we could have just split a one-person entree and filled up on the free injera that comes with the meal (your supply is replenished as you eat).
This meal left me satiated, not stuffed, which is always preferable. However, dessert was in order to cleanse my palate of the spicy flavors. I got the Chocolate Pyramid (about $8), which was a hard-shelled dessert filled with chocolate mousse. Below the mousse was a crunchy, praline layer, which was my favorite part of the pastry. It was the perfect end to the meal.
Das Ethiopian is the most elegant Ethiopian restaurant I've seen, and it's in a more central location (relative to Foggy Bottom) than other DC Ethiopian restaurants, which can usually be found on U Street, Adams Morgan and near Howard University. I've enjoyed my meals at the other Ethiopian restaurants I've been to more, but I was usually sharing with about 10 people at these places, so I had a wider variety of dishes to try. I'd come back to Das and see what else they had to offer.
http://betterthanramen.net/2013/11/25/das-ethiopian/